Pests are very difficult to detect. For instance, termite treatment can only be done when you notice the damages. That is why it is better to do frequent pest inspections in your home and business. Pest control solutions will help you save a lot of money. The treatment plan allows you to understand the situation in your home and choose effective pest control.
Pest control services in Brisbane gives you the flexibility to understand pest issue and choose the best pest control company according to your need. Any type of pest can cause significant damage in various ways. If you have not had your property checked or treated recently, it is possible that these pests have begun to invade. If you are unsure of how to handle the situation, it is best to leave it to professionals who possess the expertise and experience to resolve the issue.
Best Pest Control Treatment Services In Brisbane
Pest treatment services use different methods to deal with a range of pests around Brisbane. However, chemical pest control is the main and most trusted pest control measure.
Traditional pest control approaches typically rely on chemical methods to eliminate pests and maintain pest-free environments. These chemicals, commonly known as pesticides, are not only utilized for pest control but also for crop diseases and weed infestations. While pesticides provide quick and cost-effective pest eradication, they are toxic and require the expertise of pest control professionals to handle them safely and protect humans from harm.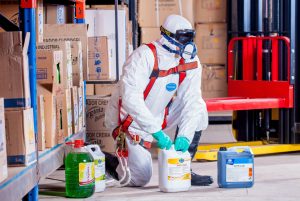 However, the pest control industry offers alternative methods that prioritize safety and minimize chemical usage:
Ultra-Low Volume Fogging: This technique is highly effective for combating insect infestations. It involves the targeted application of a small amount of insecticide, reducing environmental impact and potential harm to humans.
Fumigation: In severe cases, pest technicians employ the fumigation method. This process involves sealing the entire property and filling it with pesticides, ensuring comprehensive pest eradication. However, this method is reserved for extreme situations and is carefully controlled to minimize risks.
Other pest control methods include-
Physical Pest Control
Physical pest control encompasses a range of methods to manage and eliminate pests within a property. Its primary aim is to capture, exterminate, or relocate pests, effectively removing them from the targeted area. This approach involves the implementation of physical barriers, and reinforcing structures to prevent reentry or initial infiltration by pests.
Various techniques fall under physical pest control, including the removal of nests, sealing openings such as holes, windows, and doorways, using temperature-based measures to kill pests, and employing traps for catching and removing pests. In agricultural settings, methods like field burning and trap cropping are commonly used for pest control and management.
Biological Pest Control
The biological method is an environmentally friendly approach that utilizes natural organisms to control and reduce pests. Pest control experts introduce the natural predators of pests to the affected area as a management solution. While this method is less commonly employed by Brisbane pest control service providers, it remains an effective and eco-friendly option for pest control.
By utilizing a combination of these pest control methods, professionals can ensure effective pest management while prioritizing human safety and minimizing environmental impact.
Most common pest control in Brisbane
Commercial Pest Management
Owning a business in Brisbane and not caring about your reputation do not go hand in hand. At present, it is very important to top the chart of cleanliness and hygiene. Therefore, it is best for the owners to do high-quality pest control to protect their business, customers, and staff. Pest can cause a lot of problems for the business as well as the people who work there. If your customers see pests roaming around the property they won't come back.
Residential Pest Treatments
Buying a house is a big thing. Once you have bought it, you also need to protect it from several things. Protecting your house from pests is very important. Powerful and safe pest control treatment is necessary to protect the house and your family.
Building and Pest Inspection
Gain a complete understanding of the condition of the home you suppose to purchase through reliable building and pest inspection service. While the outward appearance of a property may seem flawless, there may be hidden issues present beneath the surface.
If you're planning to sell your home, maximizing its value is your top priority. Thus, investing in a thorough inspection for termites and other pests is a good decision.
When you are in the market to buy a property, it's crucial to have a clear understanding of what you're investing in. Unexpected and costly surprises after signing the contract can be avoided with a meticulous inspection.
Termite Control
Termites can cause extensive and expensive damage to your home. They have the ability to silently and rapidly multiply, often remaining undetected. Therefore, a powerful pest control treatment is a must.
Why Commercial Pest Management Solution Is Necessary?
Pest infestation in commercial property across Brisbane allows you to save a lot of money in the future. Pest control experts in Brisbane always recommend having a termite inspection and a reliable pest control method. A small pest attack in the Brisbane area is enough to make your business negative. Therefore, expert pest control technicians with years of experience in pest services provide you with the best pest treatment plan for your commercial property.  Here are a few commercial areas that need integrated pest management.
Corporate Offices
When it comes to pests, they can interrupt working hours and employees may feel it is risky as pests can spread diseases. Additionally, they also damage the building, equipment, and private properties. The pest management services can save you from this destruction.
Hotels and Restaurants
If we talk about the hospitality industry, Negative experiences of customers can highly affect your business. Pests in your property can easily damage your name. As customers are prioritizing their health, hygiene has become the number 1 concern for Hotels and restaurant owners. Customer reviews in Brisbane can spread like wildfire. Therefore, it is important for you to hire pest exterminators for effective pest management.
Hospitals
Pests can cause a lot of health issues by transmitting pathogens and spreading illnesses. Everyone wants to have a hygienic environment. Talking about the patients, they need extra care while treatment. The accommodation and treatment facilities should be sterile and clean as much as possible. Therefore, regular pest control is highly necessary in hospitals.
Godowns and plants
Pest problems in godowns and food plants can damage a lot of products and services. Hence, providing pest control services to such places is highly important.
How Often Do You Need Professional Pest Control Services In Brisbane?
It is better to do affordable pest control once in 4 months or quarterly. This approach can solve your pest problems permanently. However, local pest control companies in Brisbane offer different plans that are usually one-time eco pest control, quarterly, and annual pest plan. If you want to get rid of unwanted pests then it is best to go for eco-friendly pest control solutions once in 4 months.
How much does leading pest control cost Across Brisbane?
Pro pest control Brisbane companies usually charge $35-$100 / hour. However, this price also depends on the type of pest, level of infestation, and size of your property. 
Are general pests a problem in Australia?
Current pests have a huge impact on the environment. Therefore, it is better to do pest control for eradication of the pest. Still, there are a few cases where eradication is unsuccessful and prevention is impossible.
Final Words On Inspection And Affordable Pest Solutions Around Brisbane
In conclusion, I would say that pest eradication in Brisbane is highly important to keep your property safe. The need for pest control is increasing and people are searching for the safest pest control experience. Moreover, there are a few DIY pest control methods that you can follow to keep your property safe from domestic pests.